Some fascinating new software development trends, like AI-assisted coding, are anticipated to take off in 2023. At the same time, previous trends like low-code programming and the creation of blockchain apps will start to fade. Moreover, the job market for software development may be beginning to stabilize.
Importance of Software Development
It is important for businesses since it enables them to stand out from rivals and increase their competitiveness. Software development may enhance customer experiences, increase the number of feature-rich and innovative goods available on the market, and increase the security, efficiency, and productivity of organizations.
Information can be digitized and stored online, saving space while also integrating and centralizing it for quick access by those who need it. Also, safeguarding your data from strangers is simple.
The amount of data in the pool grows as the firm expands, and the company's attention will shift to efficiently storing this data. Businesses must do this by creating and upgrading their digital infrastructure in order to continue offering reliable service to those who use this data. The development of software is also necessary for data analysis. Businesses can use the data gathered from routine tasks in conjunction with the appropriate software to keep track of client trends.
Purpose Of Software Development In Business
Today, it is difficult to imagine a thriving company without web marketing. Digital marketing would be one of the best strategies to gauge the expansion and performance of your company in the upcoming years. You will need mobile apps and internet platforms regardless of the type of business you run because they have a significant impact on how clients contact you and make purchases from you.
A solid foundation can assure a significant increase in revenue.
The top 5 reasons why software development is important for your company are listed below.
Promote your company
Your company will achieve new heights with the use of the software. It helps in the promotion and growth of your company by making your brand accessible to everyone and practically everywhere via a computer or smartphone.
Increases service and sales
It's critical to understand what your target market thinks about your name and goods. You must have an internet platform that enables clients to contact you easily and share their opinions about your goods and services if you want to learn their viewpoint and want them to leave a favorable comment.
Direct interaction
The only thing that enables you to communicate directly with clients is software development. You cannot directly communicate with your customers using any other technique. It is the quickest method for raising brand recognition.
Boosts consumer engagement
Every company aims to grow the number of its repeat customers. But how can a company grow the size of its clientele? Online advertising is the solution. Online marketing tactics must be used by businesses. A mobile app or website can increase client engagement and encourage them to return to you rather than your competitor.
Helps in business marketing
Software development enables you to implement mobile marketing for your company, thereby promoting your goods and services wherever without spending extra money or time. Your clients can get in touch with you from anywhere in the world.
Steps in developing software 
To make better software, planning is necessary;
Planning a project Analysis
Designing and implementing a system
Software maintenance testing
Benefits of Custom Software Development 
One-of-a-Kind Solution Exclusive to Your Company
The primary motivation for creating custom software is your business's desire to control the solution. Companies can use the software's features, data, and development processes, among other things. Businesses may add crucial information, make adjustments whenever they want, and use client feedback when using customized software. Engaging in interaction with clients increases your company's trust and stickiness.
Personalized Response
Every user or customer wants to experience a personal level of service from a company. The degree to which you feel treated like an individual affects your level of customer satisfaction. A business adds value to the customer/business relationship when it offers more individualized solutions. This extra value increases customer retention and fosters customer loyalty.
Customer Contentment
According to Mckinsey's research, 71% of customers demand customized service from firms, and 76% are dissatisfied when they don't get it. The creation of specialized software is crucial for ensuring customer satisfaction given the importance of a customized user experience.
Security
Because most commercial software uses open-source code, it is typically simpler to hack. Such software already has weaknesses that hackers and attackers are aware of, whereas custom-developed software is a closed-source project and is only utilized by your team. As a result, the likelihood of intrusions is reduced.
Integrating
Integrating custom software with your current business software should be simple if you have developers on staff or hired. Also, existing processes can be implemented using custom software without needing to go by the restrictions of a random API.
Concept of Software Development Life Cycle (SDLC)
The Software Development Life Cycle refers to the process of developing software applications using standard business practices (SDLC). Planning, requirements, design, building, documenting, testing, deploying, and maintaining are the six to eight stages that are frequently followed.
Depending on the size of the project, some project managers will combine, split, or eliminate procedures. Every software development project should incorporate these essential elements.
A framework for analyzing and optimizing development processes is the SDLC. It makes it possible to analyze each step of the process in detail. As a result, businesses may increase productivity at every stage. The need for software and developers increases along with the rise in computing capacity.
Why Software Development Life Cycle is Important? 
The software development life cycle enhances software development in numerous ways. It provides a helpful mechanism and structure for developing software applications.
Prior to the start of the actual construction, it helps in sound planning. The SDLC allows developers to assess requirements. It aids in cutting back on extortionate development expenditures. Early in the development process, developers may estimate costs and reduce costly errors.
It enables programmers to produce top-notch applications. This is due to the methodical approach they take, which enables them to test the software before it is made public. It serves as a framework for assessing the effectiveness of the software. This further enhances the software.
Phases of the Software Development Life Cycle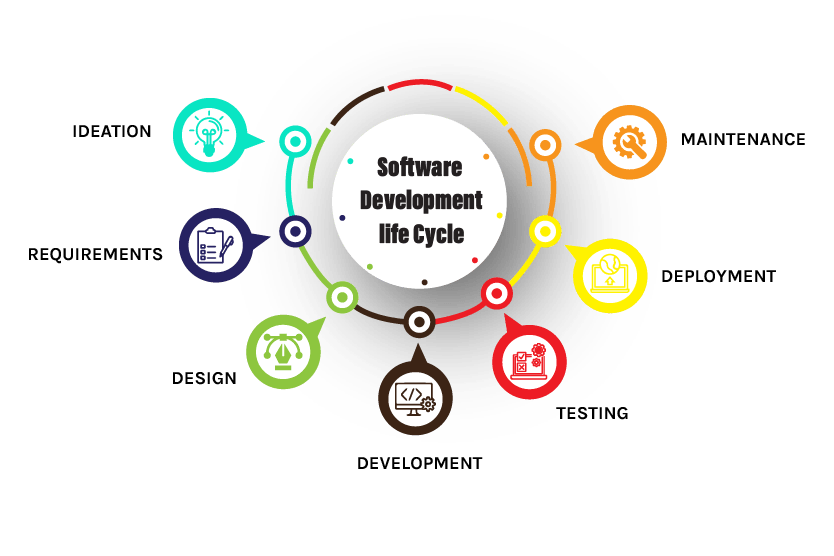 Final Thoughts
Our reliance on software is growing as we enter the new era of automation, mobile apps, and post-pandemic existence. It's not at all a terrible thing; applications have the potential to improve your lives even further.
Businesses must spend money on software development if they want to succeed in such a technological world. Software development encompasses far more than just creating a website or a mobile app. Find out the differences between software development for startups and large corporations. By updating your program, you might gain a number of advantages.