When you invite a voice assistant into your home, it merges with your family's environment, including that of your children. Children are naturally quite perceptive and intelligent, so it doesn't take them long to realize that they can ask their handy Google Assistant any question in the world and receive a response to all of their most pressing questions. However, it has flaws and unnecessary exposure that are bad for developing brains.
This kind of limitless access to information may be quite helpful in sating their thirst for knowledge and assisting kids in discovering more about the world. Unchecking it, though, might result in your kids obtaining knowledge that, as a parent, you might not have wanted them to acquire.
But it too comes with truckloads of vulnerabilities. If you are a working parent you can not keep a 24/7 check on your kids as it is impossible. But the new google update is here for the parental rescue.
"And as today's kids grow up in a world surrounded by technology, we want to help them have safer, educational, and natural conversational experiences with Assistant"- Sissie Hsiao, Vice President of Google Assistant.
Because of this, Google has just released parental controls for Google Assistant. As the firm states in the announcement(opens in new tab), children frequently interact with shared devices, so it thought fit to provide parents with the appropriate tools to supervise them. Until now, Google Assistant hasn't actually had any parental controls.
Google Kid friendly Assistant and Amazons Kid Hand -in-hand
Google is hardly the first voice assistant to provide parental restrictions. Since 2018, Amazon has offered parental control features for its speakers, initially under the moniker FreeTime and then under the name Amazon Kids. Parents may set up profiles for their kids through Amazon Kids and use the Amazon Parent Dashboard to disable Alexa capabilities, filter unsuitable content, set time limits, and monitor their activities. In addition to operating under parental supervision, Alexa may engage kids in playful interactions by cracking jokes, helping with homework, and using language that is appropriate for kids.
Google's Assistant Kid-friendly Updates: What does it Offer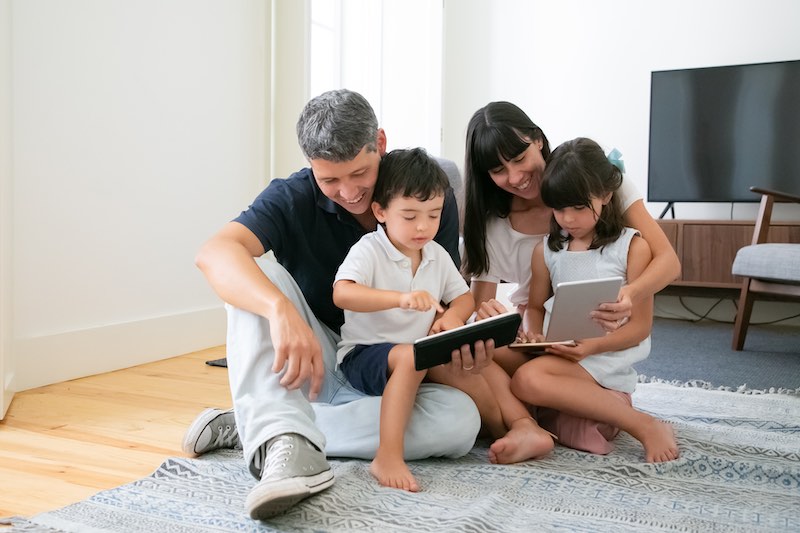 Assistants Parental Control
Users will be able to regulate the kinds of features, material, and devices that kids have access to at home thanks to Assistant Parental Controls. You can focus on a select group of authorized services for content, such as YouTube Kids or YouTube Music. Access to podcasts and news can also be restricted by parents. Calling functions can be deactivated, and the age-appropriateness of the responses provided can be changed. The improvements also give you choice over the type of responses Assistant gives your kids.
Families should find it simpler to customize content and device access thanks to these new options. For instance, most of our home appliances or smart speakers and displays are now configured to play music and videos from parental Spotify or YouTube account, which means kids may interrupt Spotify podcast played on parent's phone if they ask for a song on the Nest Hub in the kitchen. This may be avoided by having the ability to link particular services to your child's voice, so that when kid requests, Spotify Kids is played.
How to enable Google Home Parental Control?
Launch the Google Home app and Log into your Google account and

Click the Menu button.

Choosing More Settings

Click Adjust Settings for this Google Home Device after scrolling down.

Now, depending on how you choose to configure your parental controls, you will see a list of activities that you may activate or disable.

To prevent anyone from accessing the restricted content on YouTube, for example, go to YouTube Restricted Mode and turn it to Enabled. Make sure each item is enabled or not by checking it.
Downtime
Even a new feature called Downtime will be available to schedule when kids may use Google Assistant. On Android and iOS, they may be set up via the Google Home, Family Link, and Google Assistant applications. On the devices in your family, the settings for your children's profile, including those for things like Downtime, will immediately transfer across.
Kids-voices
With four additional "kid-friendly voices" to add some variety to its voice assistant, Google has created four new constraints to make Google Assistant more kid-friendly. In order to aid in storytelling and aid children in understanding what is being said, these voices really talk a little bit slower and more expressively.
Compared to the Assistant voices we are used to, they had a softer, more calming, and slightly less artificial tone. These voices go by the intentionally gender-neutral titles Cosmic, Breeze, Explore, and Rio. Kids only need to say, "Hey Google, change your voice," to activate the new voices.
Kids Dictionary
Children frequently ask questions, but the answers provided by Google Assistant may be difficult for them to comprehend. Long, unfamiliar terminology and in-depth explanations taken from the internet might be difficult. This new updates offers Kids Dictionary as a result. Google Assistant will provide an explanation and illustration that is suitable for kids in response to your child's questions about a word's meaning.
"It's a condensed, kid-friendly lexicon that works on speakers, smart displays, and mobile devices," Says Hsiao Vice President of Google Assistant.
Google New Updates Ensures Better Protection
The Google Assistant upgrade is a part of the tech giant's ongoing initiative that provides parents more control over how their families are protected. As a matter of fact, the previously mentioned Family Link recently underwent a significant redesign that altered its user interface and incorporated a new location monitoring capability. Additionally, Google TV now has new watchlists that may be easily supervised by parents.
But suppose you feel that your family needs extra security measures and you wish to recommend some. Check out TechRadar's ranking of the top family-friendly identity theft prevention tools. These security bundles include devices like VPNs, anti-malware software, and password managers.